Back to Browse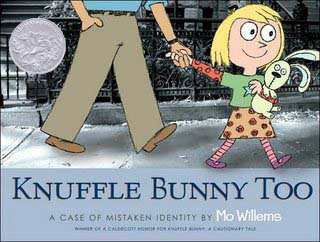 New York Times
Best Seller!
Knuffle Bunny Too: A Case of Mistaken Identity
2008 CALDECOTT HONOR
Her Daddy in tow, Trixie hurries off to school to show off her one-of-a-kind Knuffle Bunny to her classmates; but an awful surprise awaits her: someone else has the exact same bunny!
Thus begins an exciting, frustrating, and ultimately revelatory twenty-four hours of squabbling, teacher-enforced bunny "time-outs," bedtime realizations, late-night phone calls, and a special middle-of-the-night encounter.
Price (US)

$17.99

ISBN

1423102991, 9781423102991

Size

12 x 9

Pub Date

9/12/07

Format

Picture Book

Age Range

3 - 6

Page Count

48
Other Books in the Knuffle Bunny Series